What and How to Sign in a Digital World?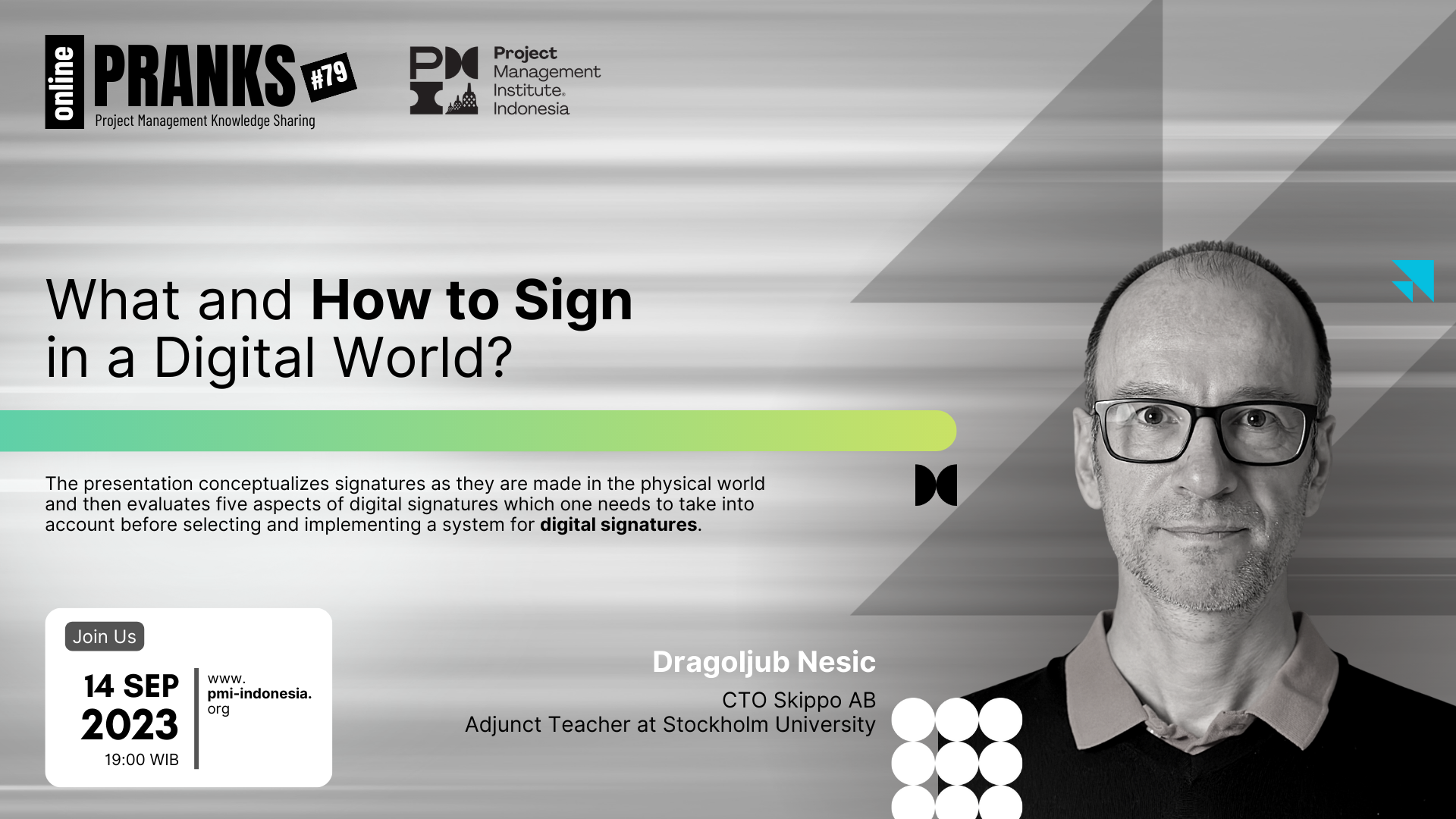 This session is free for everybody !!!
The presentation conceptualizes signatures as they are made in the physical world and then evaluates five aspects of digital signatures which one needs to take into account before selecting and implementing a system for digital signatures.
The session will be in English
-----------------------------------------------------------------------------------------------
Dragoljub Nesic, MSc, MBA
CTO Skippo AB
Adjunct teacher at Department of Computer and Systems Sciences, Stockholm University
https://www.linkedin.com/in/dragoljub-nesic-3a837b/
Dragoljub Nesic is a business leader with a passion for technology and 30 years of experience in product management and software development. He has led development organizations to generate tangible business value through applying existing and new technology in innovative ways. With deep technical and analytical skills, endless optimism, pragmatic approach to problem solving, and unfading drive to get things done. He orients everyone  working with him to focus and deliver upon what matters most for the business at any given time.
He has worked with technical solutions at architectural level but also with bits and bytes. He has reasoned around technology with executives and explained business strategy to developers. In the process, he has constantly zoomed in and out between strategic issues and tactical solutions, and between software architecture and low-level protocols, an approach valued by both engineering teams and board members alike. He believes there is a trade-off in any decision that one makes – a balance between these perspectives makes those decisions easier to make.
He prides himself in using structured processes to release the creative potential of teams  he working with. As an executive, he provides inspiration and guidance to align the organization with the company's overall goals. He equips teams with the ability to operate autonomously with a "fail-fast" attitude. He believes it is better to fail in an endeavor than not to have tried at all – although he doesn't approach failure lightheartedly, a failure does provide us with an opportunity to learn.
Learnings from work he applies in private life, and the other way around. An agile approach to exercise has led him from running his first marathon to completing an Ironman race. The skills of planning, perseverance to execute a plan, and the sensibility to adapt a plan when necessary, he uses at work every day.
-----------------------------------------------------------------------------------------------
For member, please ensure to fill your PMI ID during the registration to enjoy the benefit of auto-claim PDU from PMI Indonesia Chapter.
You can register yourself through below link :
https://telkomsel.zoom.us/meeting/register/tJ0ocO6srD8vEtQ8dPlfBDnrctWdKjnSOqpz
After registering, you will directly receive a confirmation email containing information about joining the meeting. If you don't get the email, contact us on program@pmi-indonesia.org to get your personal link.
Please be noticed that our Zoom room capacity is limited for first 300 attendees, so early admission is highly recommended. 
We will NOT broadcast the live session to our Youtube channel, but will upload the recording there few days after the session :
https://www.youtube.com/c/PMIIndonesiaChapter
PRANKS (PRoject mANagement Knowledge Sharing) is a fun event to meet and greet with other project management practitioners where you can upgrade your skills, share your experiences and idea, and don't forget to meet new people and make new friends.
It is no longer possible to register for this event