Future-Proofing Projects: Leveraging Generative AI for Automated Scenario Planning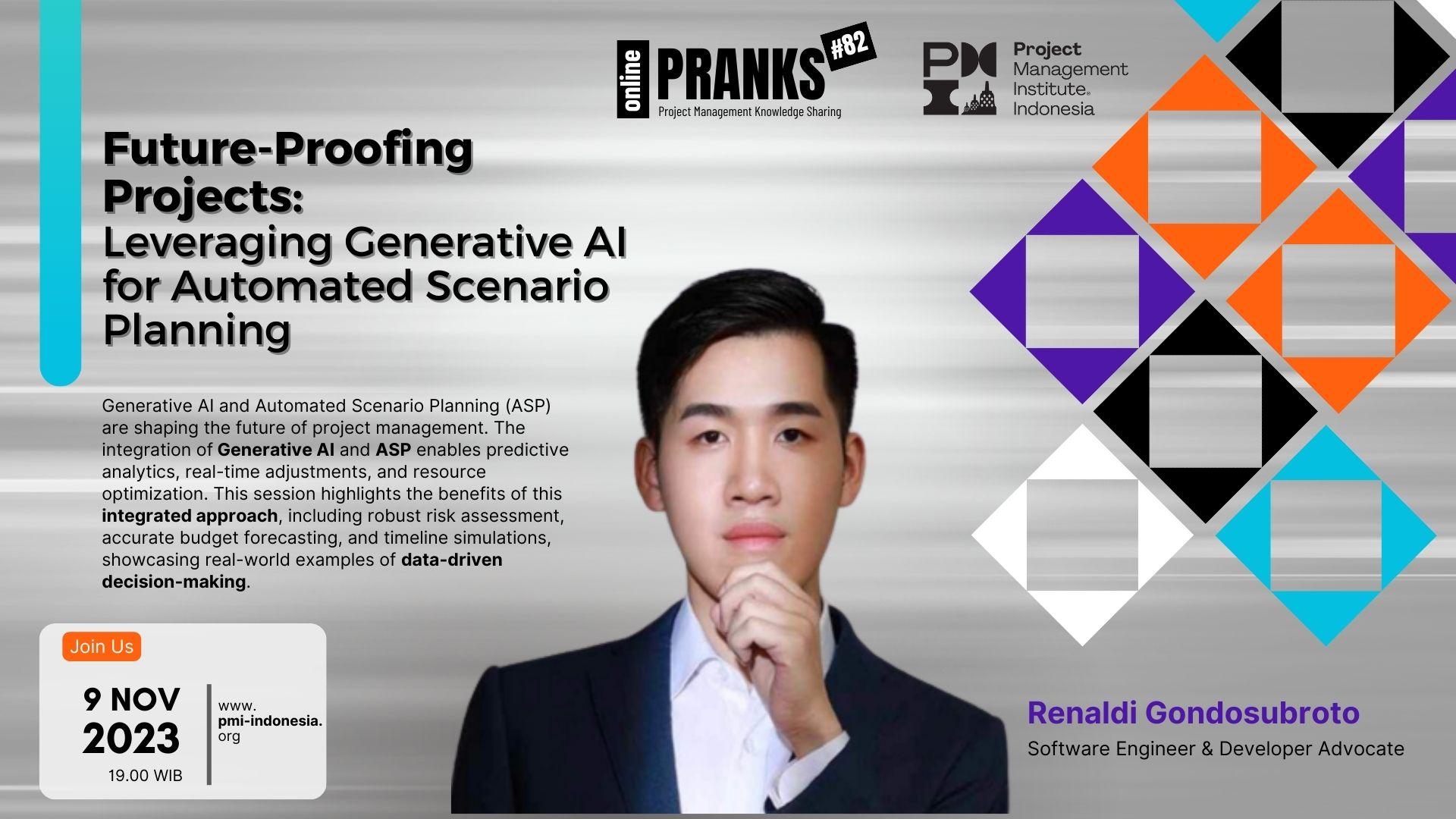 This session is  free for everybody !!!
In the rapidly changing domain of project management, the capability to anticipate and adapt to diverse scenarios is key to success, a notion brought to the forefront with the advent of Generative AI enhancing Automated Scenario Planning (ASP).
This session aims to unveil the synergistic relationship between Generative AI and ASP, transforming the facets of project planning, execution, and foresight. Initiating with an exploration of Generative AI, the discussion transitions into its integration with ASP, forming a robust platform for predictive analytics, real-time adjustments, and resource optimization, all elucidated through real-world examples. These examples spotlight how this integrated approach underpins robust risk assessment, accurate budget forecasting, and timeline simulations, heralding a new era of data-driven decision-making.
Concluding with a vibrant Q&A and discussion, this session provides a platform for attendees to share insights, curiosities, and experiences, fostering a collaborative exploration of the future of Automated Scenario Planning powered by Generative AI, in the progressive realm of project management.
The session will be in English
-----------------------------------------------------------------------------------------------
Renaldi Gondosubroto
Software Engineer at SEEK
Developer Advocate
  
Renaldi having spoken over 30 events and conferences, he has been an international speaker for the past six years, sharing his project management and technical experiences, along with his projects. He currently holds the CAPM, PMP and ACP certifications from PMI. He also is an AWS Subject Matter Expert (SME) for its Professional and Specialty Certifications and holds all 13 AWS certifications. On the side, he runs tech meetups and workshops to promote better understanding of technical and project management skills. In his free time, he also enjoys running track and playing chess.
-----------------------------------------------------------------------------------------------
For member, please ensure to fill your PMI ID during the registration to enjoy the benefit of auto-claim PDU from PMI Indonesia Chapter.
You can register yourself through below link :
https://telkomsel.zoom.us/meeting/register/tJwqceuhrjwqGdLlzsUmTjfQS6Fk8Zv_Q1V_
After registering, you will directly receive a confirmation email containing information about joining the meeting. If you don't get the email, contact us on  program@pmi-indonesia.org to get your personal link.
Please be noticed that our Zoom room capacity is limited for first  300 attendees, so early admission is highly recommended. 
We will NOT broadcast the live session to our Youtube channel, but will upload the recording there few days after the session :
https://www.youtube.com/c/PMIIndonesiaChapter
PRANKS (PRojectm ANagement  Knowledge  Sharing ) is a fun event to meet and greet with other project management practitioners where you can upgrade your skills, share your experiences and idea, and don't forget to meet new people and make new friends.
It is no longer possible to register for this event