<< Back to Calendar
How Project Professionals Can Best Support Sponsors and Executives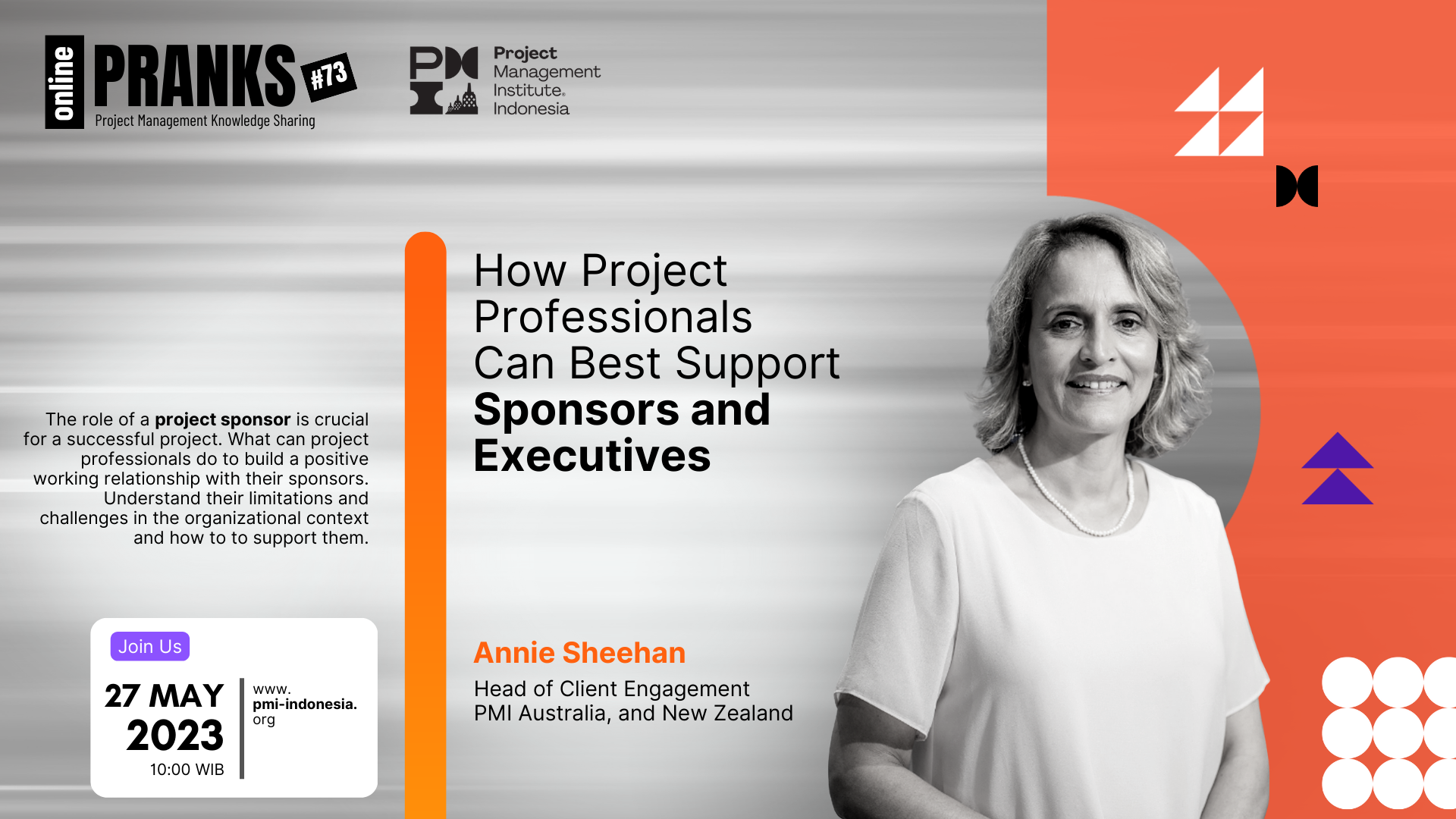 During this session, Annie will be sharing her experience as a coach and facilitator to help project professionals best support their sponsors and executive leaders, including:
Responsibilities and accountabilities of sponsors
Business and leadership challenges facing sponsors
Tools and techniques to support sponsors
Ways to develop a positive working relationship with their sponsor.
The session will be in English
-------------------------------------------------------
Annie Sheehan
Head of Client Engagement, PMI Australia, and New Zealand
Annie is an experienced executive coach with 25 years of project delivery experience. Since 2009, Annie has focused on advising senior leaders to become more accountable as project sponsors to deliver business projects and achieve sustainable change.
Using an agile mindset with established project delivery practices, Annie helps organisations find ways to deliver value in manageable chunks using simple, repeatable processes.  Her mantra is to "maximise life and stay sane".
Annie has helped several organisations to achieve superior results in sponsor coaching, capability development and improving project delivery methodology including National Australia Bank and AXA.
Annie now works with clients across a range of industries and is a certified project manager, agile coach and board director and  is the author of two business books:
Author: "The Courageous Sponsor - How to overcome challenges to get your project done" - published June 2020 *
Co-author: "Turning Ideas into Impact - Insights from Silicon Valley Consultants" - published February 2020 #1 Amazon bestseller *
----------------------------------------------
For member, please ensure to fill your PMI ID during the registration to enjoy the benefit of auto-claim PDU from PMI Indonesia Chapter.
You can register yourself through below link :
https://telkomsel.zoom.us/meeting/register/tJEkcOqoqjsoGdybPNcd6zDdRDVryMghqY2J
After registering, you will directly receive a confirmation email containing information about joining the meeting. If you don't get the email, contact us on program@pmi-indonesia.org to get your personal link.
Please be noticed that our Zoom room capacity is limited for first 300 attendees, so early admission is highly recommended. 
We will NOT broadcast the live session to our Youtube channel, but will upload the recording there few days after the session :
https://www.youtube.com/c/PMIIndonesiaChapter
PRANKS (PRoject mANagement Knowledge Sharing) is a fun event to meet and greet with other project management practitioners where you can upgrade your skills, share your experiences and idea, and don't forget to meet new people and make new friends.
It is no longer possible to register for this event