Chapter XChange Anchor for Indonesia: Arief Prasetyo, PMP, PMI-RMP
Chapter XChange: The Genesis
At the start of 2020, three PMI Chapter Leaders pondered about co-creating an event that would bring members of each chapter, and beyond, to network, and to learn from a panel of experts from each country. These leaders were Priya Patra from PMI Mumbai, Dr. Lynn Keeys from South Africa and Lenka Pincot from the Czech Republic. The joint event was very well received by the participants. Word then got around and more chapters reached out to join this initiative. As the world entered a full-blown pandemic and mobility restrictions were put in place in may places, this virtual collaboration grew even faster.
Indonesia and the Collaborating Chapters
In 2021, Indonesia Chapter was onboarded as the 10th collaborating chapter, and hosted its first event online, along with the other 9 chapters. During the 2020-2023 period, under the leadership of Alin Veronika, and represented by Arief Prasetyo, the Indonesia Chapter played a more active role in the initiative, which at the time was called \"Chapter XChange\". By the end of 2021, this collaboration was 23 chapters strong and ran joint webinars on various hard-hitting topics. The participants of our event, initially hovered around 100-200, now have grown to more than 1000 participants. The consistency in running these collaboration events, have attracted many notable speakers, and we also gained the support of PMI Headquarters, who would always be invited to our events to give an opening remarks. 
The XChange Effect : A Virtual Journey of Cross-Country Collaboration and Co-Creation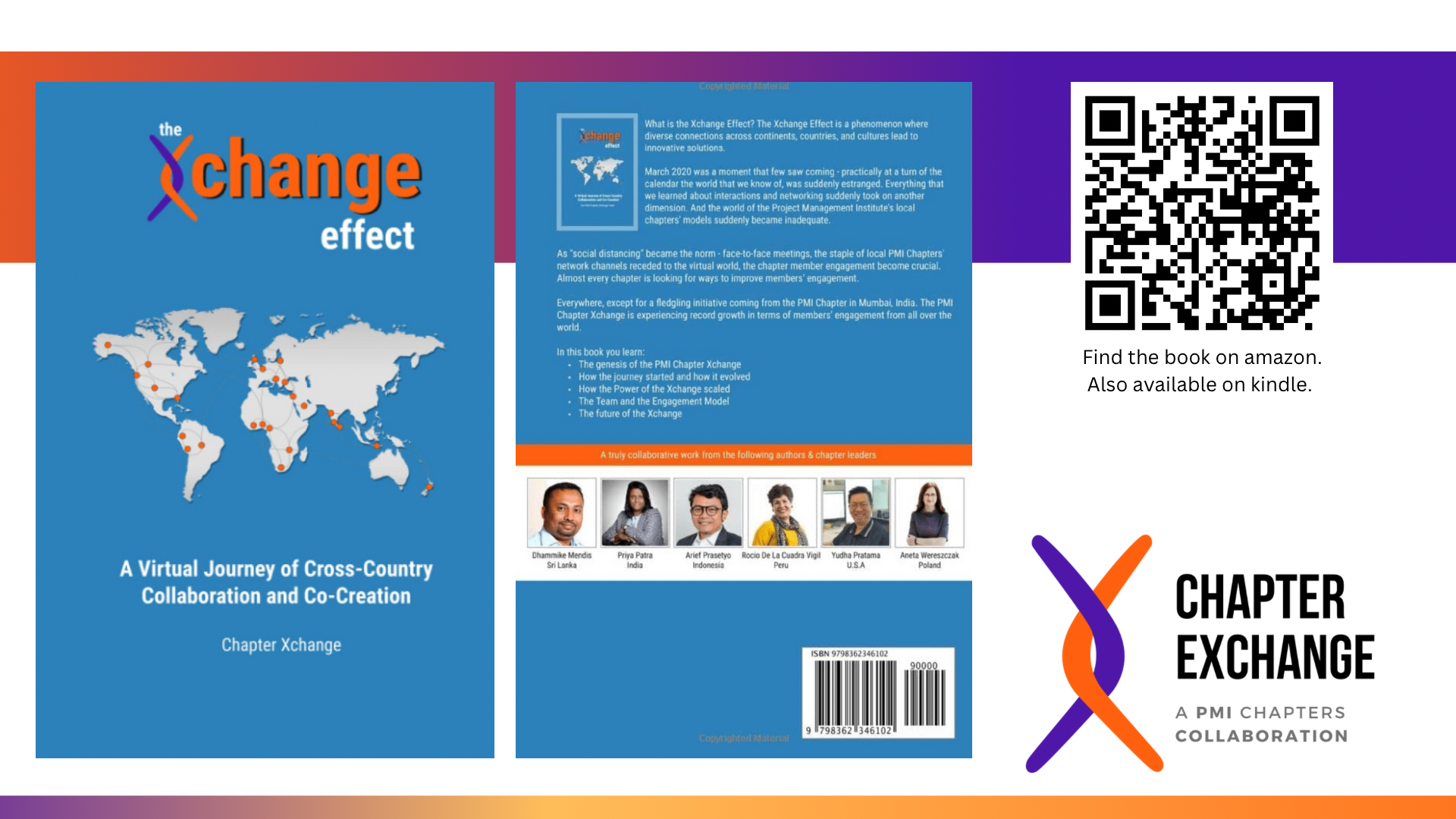 In 2022, the Chapter XChange anchors (Priya Patra - Mumbai Chapter, Yudha Pratama - Puget Sound Chapter, Arief Prasetyo - Indonesia Chapter, Rocio de la Cuadra - Lima Peru Chapter, Dhammike Mendis - Sri Lanka Chapter, and Anita Wereszczak - Poland Chapter) started a book project, called "The XChange Effect" to document the journey of the Chapter XChange, to celebrate volunteerism and to share the learnings of virtual collaboration. The book was launched during the PMI Global Summit 2022 in Las Vegas, and is published through Amazon.
Buy the Book on Amazon
How Do I Get Involved?
The Chapter XChange is still running collaboration webinar events, and continue to attract speakers and participants from around the world. Supported by 25 chapters, we hope that the initiative continues to be received by the collaborating chapters. If you wish to be involved in the XChange Initiative, please contact your local chapter, or reach out to one of our XChange anchors.
The best way to reach out to them, is to attend one of our virtual events. Check the bottom of this page, to see if there are any upcoming Chapter XChange event. We look forward to seeing you!
PMI chapters collaborating around the world
25
Anchor volunteers hard at work
40+
Webinars held since inception
30+
Distinguished Speakers Featured
120+
Featured at International Events
7
Upcoming Chapter XChange Events
No upcoming Chapter XChange events to display. Check back soon!