<< Back to Calendar
Managing Innovation - "Get High and Fly" OR "Get Down and Dirty"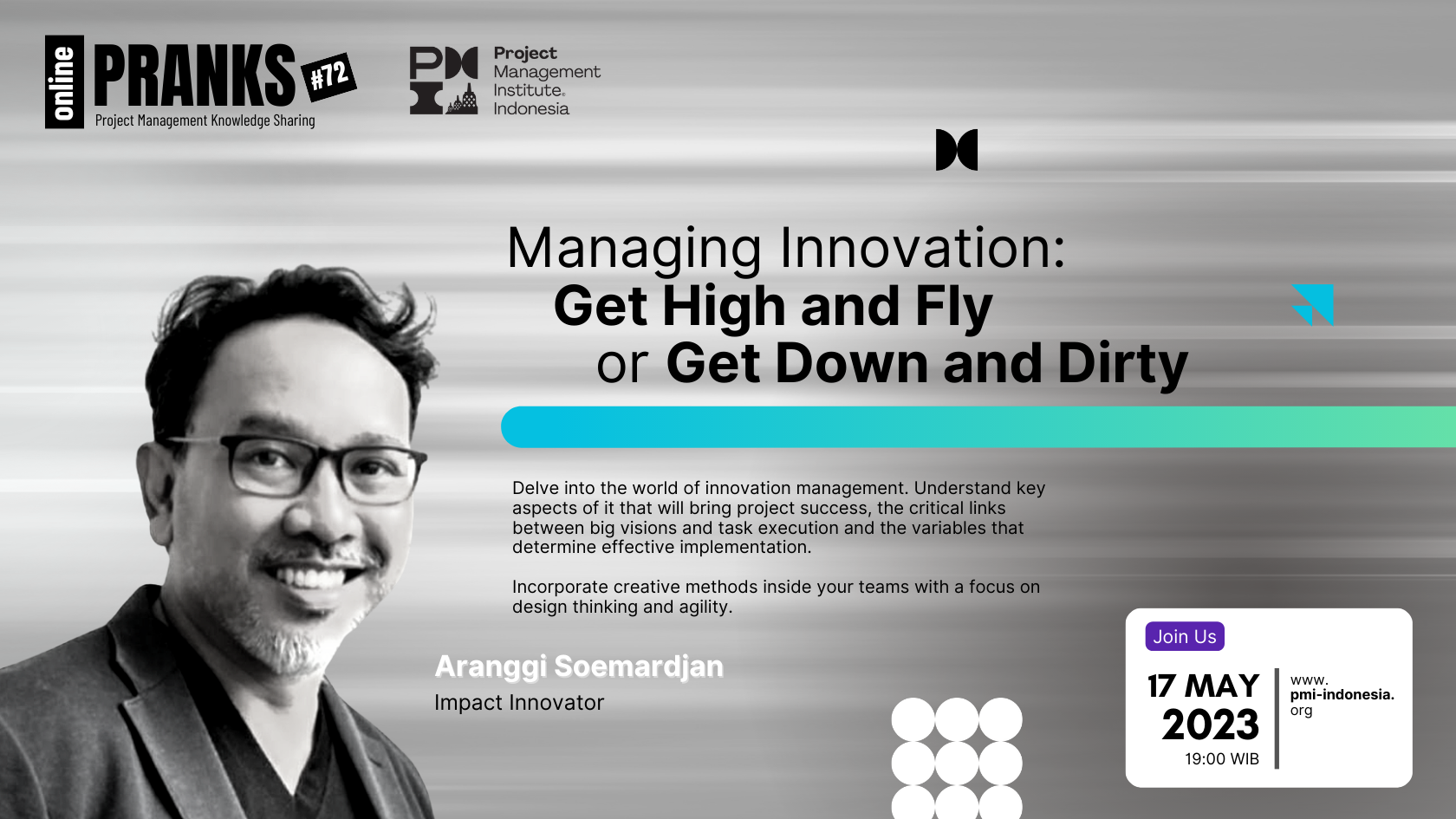 Join us for an informative webinar titled "Get High & Fly OR Get Down & Dirty?" as we delve into the world of innovation management. This webinar will be led by Aranggi Soemardjan, an impact entrepreneur with considerable expertise in elevators, education, fintech, and agriculture. It will encourage you to understand the key aspects that create project success.
Discover the critical links between big visions and executional tasks, as well as useful insights into the variables and conditions that influence effective implementation. This entertaining seminar will empower you to incorporate creative methods inside your teams and organizations, with a focus on design thinking and agile concepts. Don't pass up the chance to learn from real-world examples and unleash the revolutionary power of innovation.
The session will be in Bahasa Indonesia
-----------------------------------------------------------------------------------------------
Aranggi Soemardjan
Impact Innovator
Aranggi Soemardjan is an experienced impact innovator with a quarter century of hands-on experience directing successful projects in a variety of industries. Aranggi has consistently delivered remarkable results, exceeding stakeholders' expectations, thanks to his exceptional leadership abilities and ability to overcome complicated issues. His creative drive for problem-solving and innovation has resulted in the effective application of cutting-edge tactics and techniques, resulting in maximum value innovations with minimum costs and investments. Aranggi is an inspirational speaker who shares his wealth of expertise and practical insights at worldwide conferences and industry gatherings, one of which includes TEDx. Aranggi inspires project managers to unlock their full potential and achieve excellence in their projects with a down-to-earth attitude and a genuine desire to help others succeed.
https://www.linkedin.com/in/aranggi-soemardjan-86a3012
-----------------------------------------------------------------------------------------------
For member, please ensure to fill your PMI ID during the registration to enjoy the benefit of auto-claim PDU from PMI Indonesia Chapter.
You can register yourself through below link :
https://telkomsel.zoom.us/meeting/register/tJcocOyqrDovE9Uscs33SKNz8YAXubpKopB1
After registering, you will directly receive a confirmation email containing information about joining the meeting. If you don't get the email, contact us on program@pmi-indonesia.org to get your personal link.
Please be noticed that our Zoom room capacity is limited for first 300 attendees, so early admission is highly recommended. 
We will NOT broadcast the live session to our Youtube channel, but will upload the recording there few days after the session :
https://www.youtube.com/c/PMIIndonesiaChapter
PRANKS (Project Management Knowledge Sharing) is a fun event to meet and greet with other project management practitioners where you can upgrade your skills, share your experiences and idea, and don't forget to meet new people and make new friends.
It is no longer possible to register for this event